Teacher Training (level 5)
 Progress onto University final Year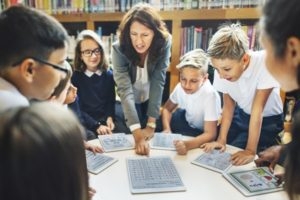 Teacher Training (level 5)
About the course
Diploma in Education and Training (Level 5) is considered as a right choice for those who are already part of education sector, or those practicing and also have experience of this industry but now desire to have a formal qualification attached to their name as well with their experience. This course qualification is recognized by Ofqual's known organization, "Learning Resource Network", and is worth of 120 credits. This course is the combination of both practical activities and theoretical study which enhances a learner's experience and knowledge collectively. The theoretical part will be covered in 9 modules (online) and practical activities will be carried out by working as a teacher in the real world. This will be in the form of learner's already working position as a teacher or will be in the form of a job the learner will seek during the study period. The student is expected to work in a college, school or any community group. The only requirement is that the student works under a mentor who will be able to guide or provide verification of student working in reality. Student assessments will include both online exam (Nine MCQs assessments online & Nine written assignments). These assigned written assignments will include different tasks which will be further divided into two categories, A & B. Part A of the tasks will include the academic area and Part B will include student own experience at their job. Both parts can be completed individually i-e., written parts can be completed before the student has started the job, but the student is expected to be on job to get the right support to complete them. This course will enable students to teach in different segments and after completion of their course, they can plan and execute work schemes, can develop teaching strategies, and can teach better in both private and public sector (educational institutes) internationally. COTHM Online has partnered with T15 International which support students to job in relevant field after completion of their course and getting QTLS.
What is Included
Self study learnig portal managed by ATHE UK & regulated by Ofqual UK.
Study plans with flexability of time.
Diploma from ATHE UK & certificates from COTHM.
Premium subscription of e-COTHM Dubai portal worth $250.
Premium subscription of Typsy – Australia worth $US 96. (Video Training Courses)
Enlisting in pool of international candidates – Facilitation for international internship
Free webinars by Industry experts
Career Pathway & Education pathway counselling
Criteria
Education Path
Career Path
Study Modules
Assessment
Awarding Body
Other courses that may also be of interest to you
Need any help? Request a call back from one of our advisors
My favourite thing about studying with COTHM Online Business School was the ability to study at my own convenience and pace.